The curriculum of LSP is designed on the basis of constructive alignment with the twelve ELOs through identification of the body of law knowledge formulated from the agreement of professional organizations and derived from graduate profiles of LSP. The body of law knowledge is then mapped towards ELOs and adjusted its scopes and depths in accordance with the NSHE for level 6 (bachelor degree). The bachelor of law program requires students to study for four years or the total of 144 credit hours on a full-time basis. The LSP provides an excellent opportunity to develop strong links with the legal profession from the beginning until the end ofthe program.
At the first year, students will learn about general knowledge and some basic laws which are mostly government and institutional course mandatories such as Social Sciences, English, Civics, Maritime Cultures, and some basic laws such as Introduction to Indonesian Legal System. Law students will not develop any law subject – specific knowledge or skills at this stage but it is expected that they will develop general study skills including oral and written communication skills and appropriate skills of personal organization and time management; corresponding to ELOs of A1, G1, and K1.
At the second year, students will be introduced tothe core principles of some of the main streams of domestic law including constitutional law, criminal law, public law, administrative law, and private law. It is expected that students at this level will have begun to develop their skills of legal problem solving and critical analysis to fulfill the ELOs of A1, K2, G2, and G3.
At the third year, students will study the remaining compulsory law subjects and continue to develop student ability to work with primary legal resources, legal research to set out legal conclusions. At this stage, a student will have a greater opportunity to focus on the areas of the law that interest students most such as advanced criminal law, advanced public law, business law, and international law. It is expected that by the end of this stage, students will have legal research skills to develop legal arguments and legal reasoning in both writing and oral communication to meet the ELOs of A1, K3, G3, S1, S2, and S3.
At the final year, a student will require to develop the relevant skills needed to demonstrate competence in legal practices including moot court laboratory practices at which law students argue imaginary cases for legal practices. The moot-court is conducted either for the sake of learning process or moot-court competition; vocational stage of legal clinics where students have a chance to identify, research and apply knowledge in a setting which replicates, or at least in part, the legal world where it is practiced. Students also have a chance to practice law at Consultation and Legal Aid Unit by assisting academic staff to handle "probono" cases. Students are also required to perform community services to help community dealing with legal cases or problems. Before graduation, students have to perform a final project to demonstrate their ability to integrate knowledge, skills, and attitudes related to solving legal cases. By the end of this stage, students are expected to have strong legal competencies and professional ethics to become effective legal practitioners.
The Body of Knowledge of the LSP curriculum related to the ELOs can be seen below: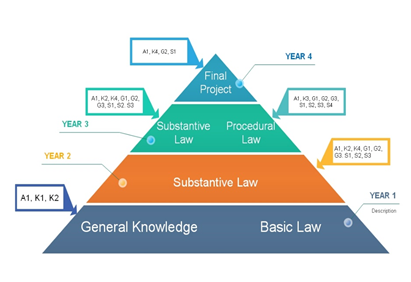 The Curriculum alignment with the ELOs :